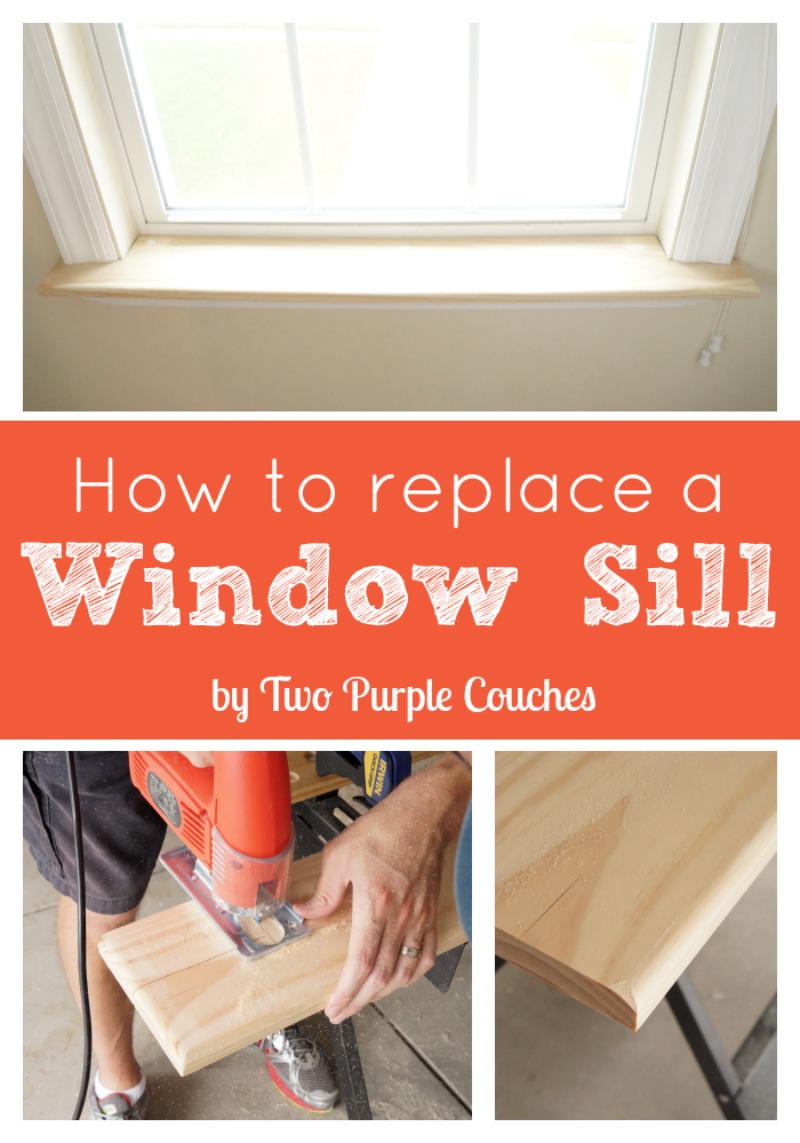 It's been nearly a month since I shared a sneak peek of the start of our Master Bedroom Makeover,  but we've made a ton of progress in that time! I shared a couple of looks at our window trimming project here, but today I'm giving you a full step-by-step tutorial of Phase 1A, also known as How To Replace a Window Sill.
When Tom and I jazzed up our family and dining rooms last Fall (holy cow! it's been a year already!), we trimmed out the windows and decided to replace the existing window sill. We both love the results so much, that we wanted to do the same in our bedroom. The trim around with windows will look different, but we made the sills the same.
I know I usually stick to simple crafts and home decorating posts, but for me, part of the fun of home ownership has been learning my way around some more serious DIY. And the way I see it, you gotta put up with some dust before you can get to the decorating!  So, I hope you'll bear with me and check out this more in-depth DIY tutorial!
Tom and I built our new sills "from scratch"—cutting, sanding, routering, and installing all with our own two hands! Read on to see a breakdown of each step we took to create our "custom" window sills!
Step 1: Measure and cut for the length of the sill. The actual length depends on two factors: the length of the sill being replaced and personal preference. We wanted ours to be longer and deeper than the builder-grade sills, so we extended the sill about 4.5″ on either side of the window and chose a board of poplar that is 6″ deep.
Step 2: Router one side for the sill edge. If you've never used one before, a router rounds out edges for that nice, smooth, finished look. Tom got to use his router for the first time, and he was pretty excited. Though it definitely took some practice, so if you're using this tool, or any tool, for the first time, allow yourself some scrap wood to practice on! We used a 3/8″ router bit for our sill edges.
Also, can you believe that my camera captured all that sawdust flying off the router! Kinda cool!
Step 3: Sand the sill top and edges. Be sure to go over the router'd edge as well to smooth any rough spots left behind. This was my first time using our orbital sander!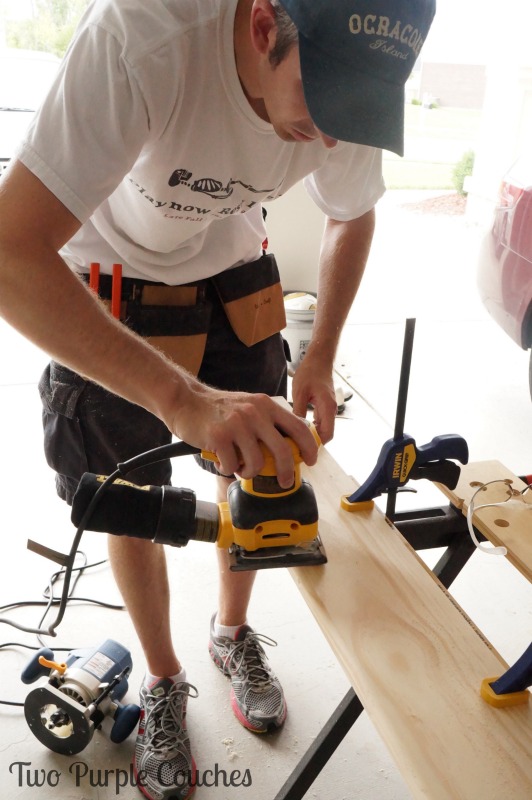 Step 4: Measure for cuts needed for the window frame notch. Even up the board so that it extends to the length you prefer on either side of the window. Mark the length. Then measure the depth that the sill will need to be. You'll end up with a little rectangle that you'll be cutting out in Step 5.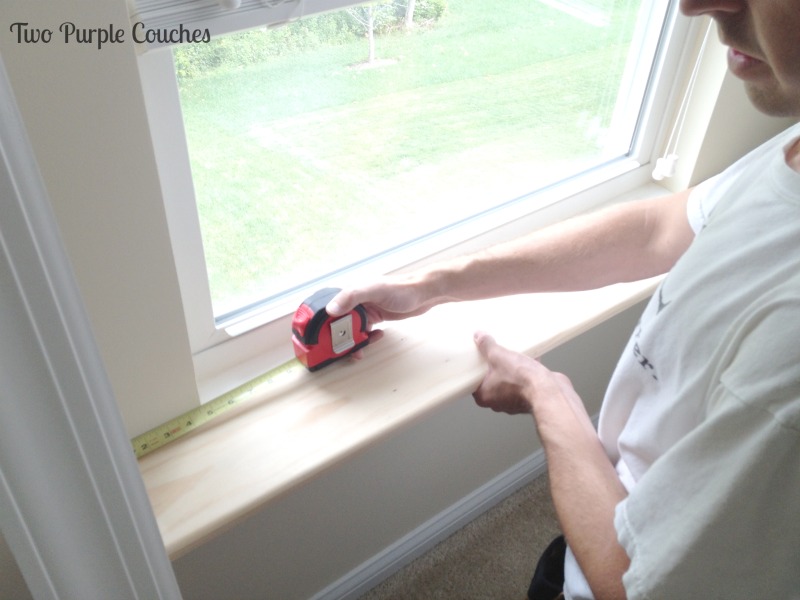 Step 5: Make notch cuts with a jig saw. Err on the side of not cutting enough. You can always go back and skim off extra, either with the saw or sander. Yes, you'll be caulking it eventually, but you don't want to have a gaping hole to fill. This was also my first time using our jig saw! Cool tool, but kind of made my whole body vibrate with it!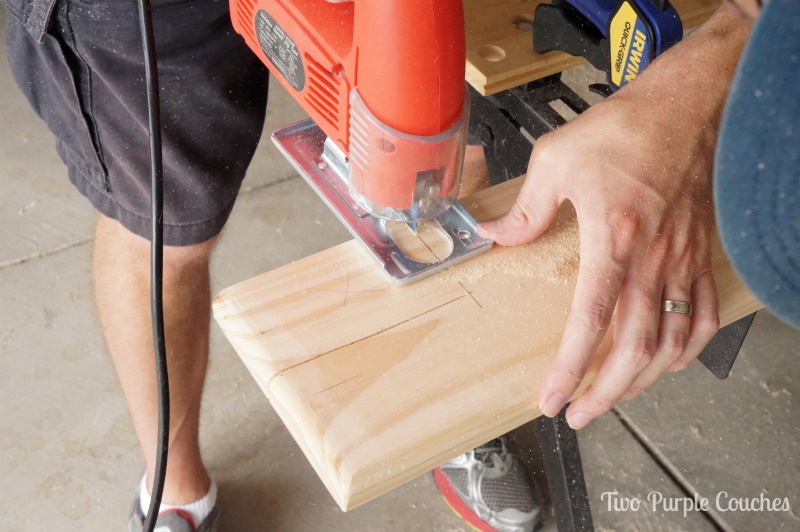 Step 6: Install new sill using wood glue and nail compressor. Hammering the sills in by hand could split the wood, so a compressor gun is your best bet. And lemme tell you… these puppies are fun to use!! And worth the investment!
We installed our replacement sills right on top of the old one, but the old can, and probably should, be removed first. Why didn't we? Well, Tom was worried removing the old sills would open up a can of DIY worms. As it turns out, they come off pretty easily, but by the time we figured that out, we had almost all the windows done!
If there's concern that you'd be able to see the old sill underneath the new one, definitely remove it. We're adding a decorative piece underneath our sills, which will hide any view of the old builder grade sill.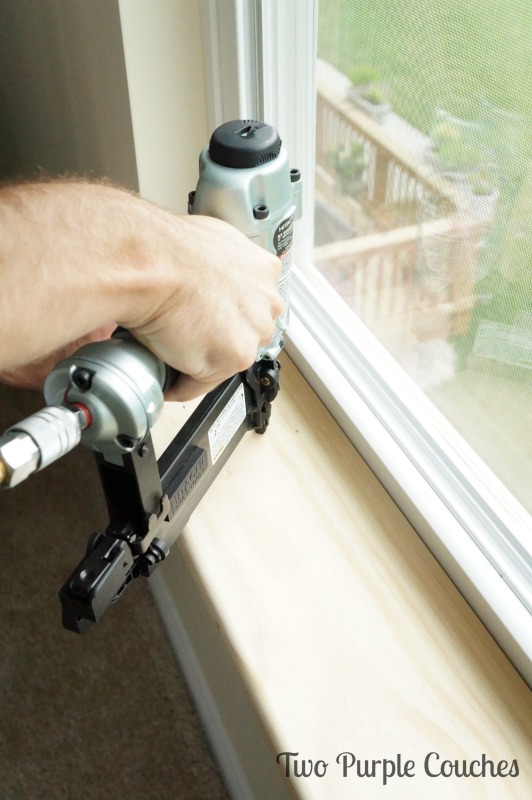 If you're happy with just a new sill, stop here. Just a few coats of white paint and you're done! Grab a cold one and kick back… that was a lot of work!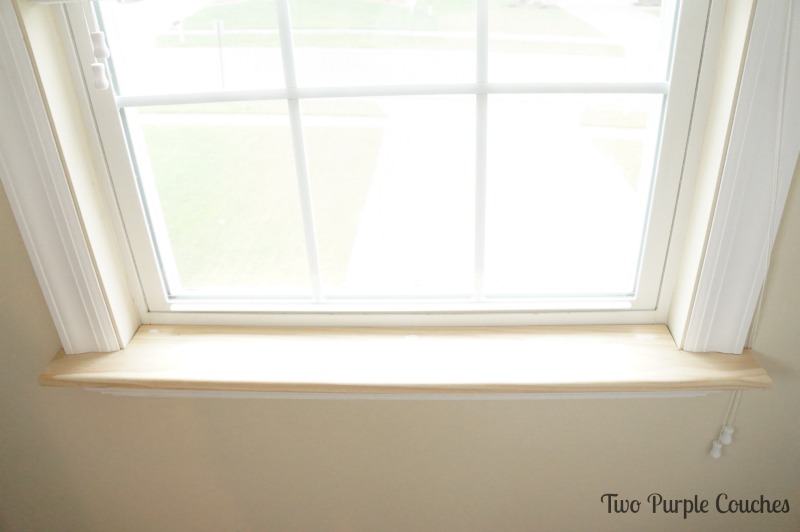 We didn't stop here… we added additional trim and crown to the sides and top of each window, which you can see in the picture above. Head on over to this post to see how the final window look turned out!
Sharing with: Creative Spark / Work It Wednesday